At Medal Mounting Australia we offer the complete medal mounting service, both singles and groups, full-size or miniature, with either swing style or court style and ribbon bars for service dress.
We have over 20 years' experience and guarantee the highest quality of service at the most competitive price.
All medals are treated with the utmost care and respect as if they are our own. We can also supply either full size or miniature replica medals of nearly all Imperial and Australian medals.
Over 30 Years of industry experience
Discounts given to RSL members, TPI and serving members
Suppliers of Quality replica Military medals
Military Tailor offering a range of medal mounting & refurbishment services
Basic research carried out to establish medal entitlements where possible
For awards given by the various states please send us your request
---
Contact Us
If you would like a quote to have your medals mounted, or would like to purchase replica medals or ribbons, please contact us at [email protected] or use the below contact form
---
Request a Medal Mounting Quote
To contact us or request a quote please fill out the form below. We welcome orders from across Australia and from those currently serving overseas delivery can be arranged.
If you are requesting a quote, please specify the service you require and attach a picture of your medals. If you require replicas, please detail your needs.
We will get back to you ASAP with a quote.
---
Order Information
Below is some information on how we collect and return your medals to you.
Dropping off your medals
If you have arranged to deliver your medals to Beaudelle Shoe Repairs, please ensure you have received confirmation from us accepting your order, including what service you are after and any special requests.
THIS IS A DROP OFF & PICK UP SERVICE ONLY
Beaudelle Shoe Repairs

Shop 25, Regent Arcade,

101 Rundle Mall, Adelaide SA 5000.

Mon – Friday 8.30 am – 5 pm

Saturday: 8.30 am –Noon
THIS IS A DROP OFF & PICK UP SERVICE ONLY
Uploading an image of your medals is extremely helpful!
You can do this via our online order form above.
All orders will be thoroughly checked and if the medal mounter has any questions, they will call you to clarify any issues prior to starting any work.
Posting your medals
If you are posting your medals to us, USE ONLY Express Post with signature as this is by far the most secure available and you can track its progress.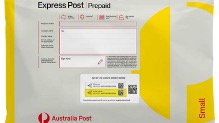 Please send all correspondence and parcels for Medal Mounting Australia to the following address:
Att: Grant
M. M. Australia
Post Office Box 236
Crafers SA 5152
Some useful information prior to making an order
Medals cannot be attached to an existing group – for example if you have 4 medals mounted already and have a further medal to go on, all 5 will need to be re mounted.
If you are ordering replica medals and know precisely what you are after please list them, we will of course know the correct order.
If you are not sure but have access to the original medals maybe, they are held by another family member an image uploaded will answer all questions.
When you order is complete, we will contact you. They can be picked up at Dimonds Picture Framers at shop 19 Adelaide Arcade or we can post them via Express Post with signature at an extra cost of $15.00
---
Medal Valuations and Purchases
If you are looking to have your medal collection valued or are considering selling, please get in contact with Grant Morton at collects.com.au who will provide professional valuation services.
---
Guide to Medal Mounting
For display purposes when the medals are no longer worn, it is perhaps more a matter of personal choice for the present custodian of the items.
Swing Style Medal Mounting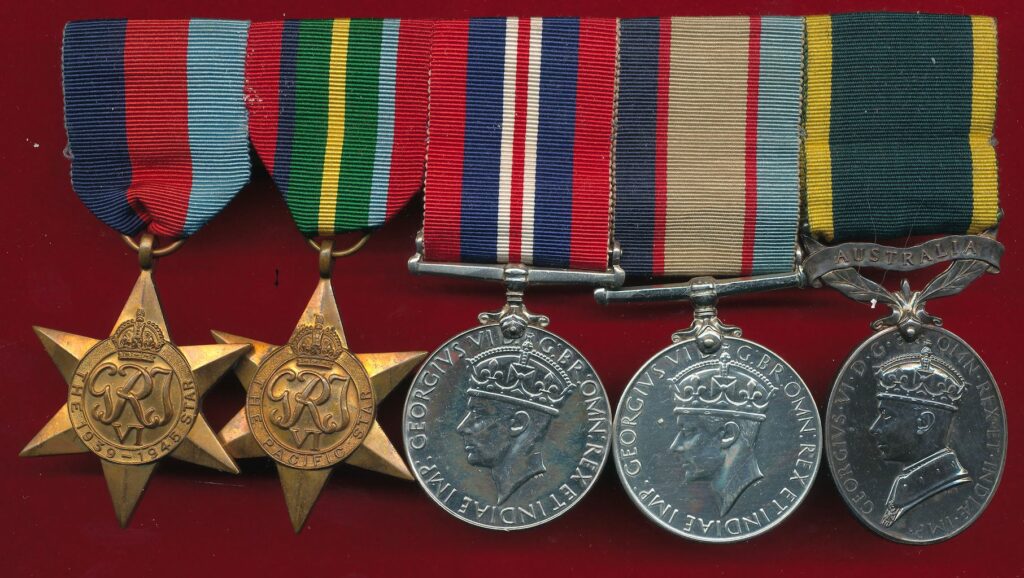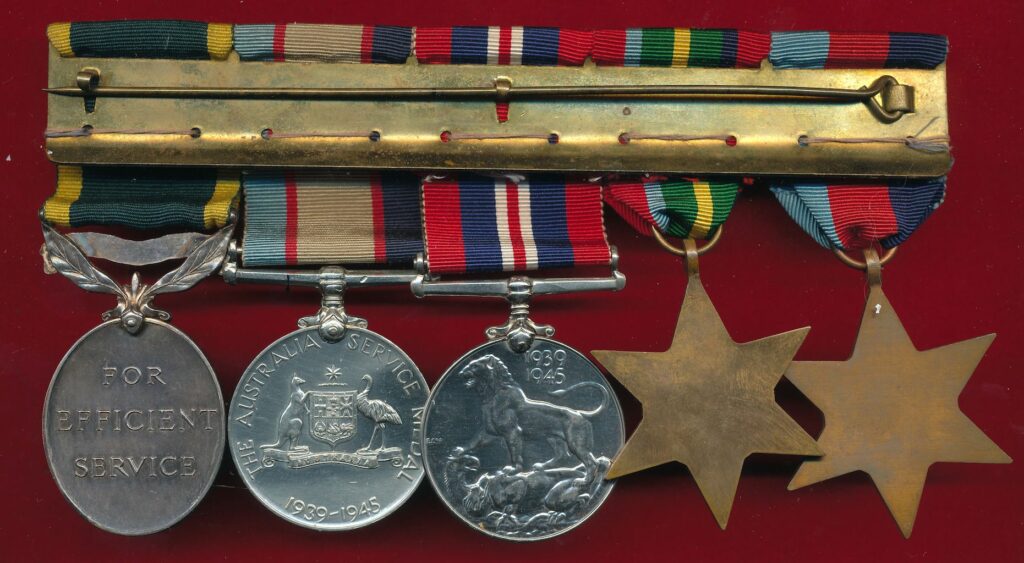 Swing style mounting is when the medal ribbons are attached to a single brooch bar with the medals hanging loosely.
The medals will clash together and "jingle" however this can damage the medals. This method of medal mounting was the main style used up until WW2 after which court mounting became popular.
It is not recommended that replica medals are swing mounted.
Court Style Medal Mounting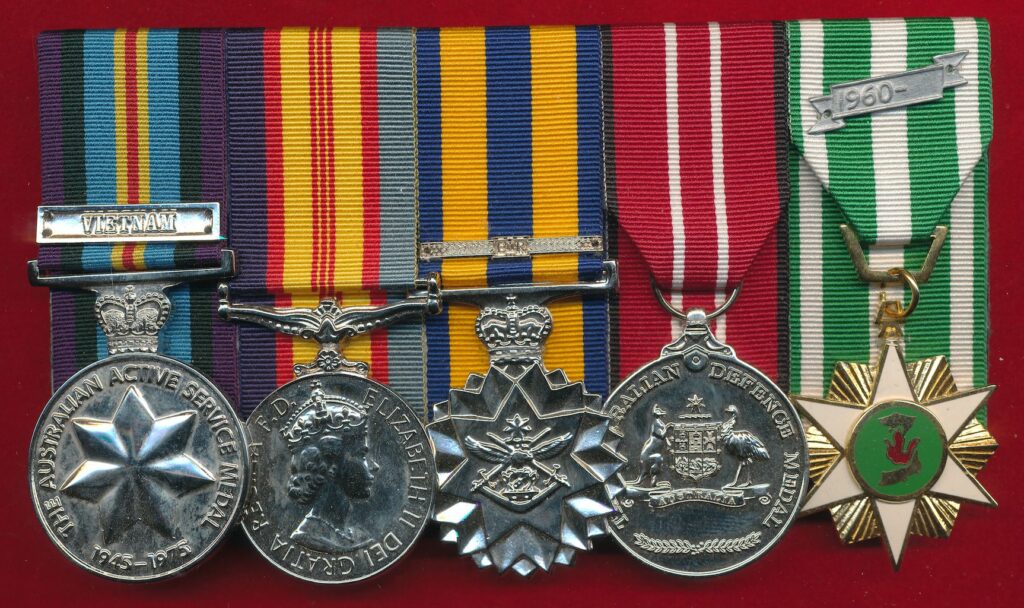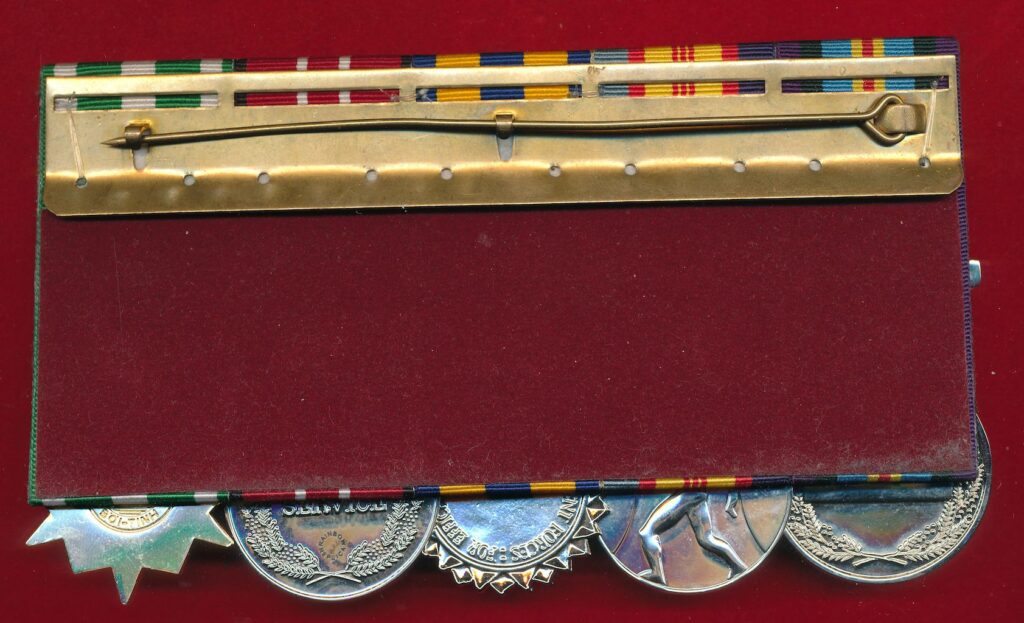 Court Mounting originates from the reign of Queen Victoria. Serving members of Her Majesty's Armed Forces in her attendance (in 'Court') were requested to ensure medals were sewn onto a backing board to prevent them from moving around and making a noise.
Court style mounting is when the medal is held in position on a rigid board limiting the possibility of the medals moving around. The ribbon is extended behind the medal when court mounted. Court mounting has the advantage of preventing edge knocks and scratching to medals which occur when medals are mounted in the swing style.
It is the required standard for all Australian Defence Force members.
Ribbon bar


A medal ribbon, service ribbon or ribbon bar is a small ribbon, mounted on a small metal bar equipped with an attaching device, which is generally issued for wear in place of a medal when it is not appropriate to wear the actual medal. You will often see ADF personnel as well as Police and Emergency services personnel wearing ribbon bars in their normal day to day work roles. They can be plastic coated to prevent damage from the elements.
Australian Army and Air Force ribbon bars for males are 4 medals wide, the fifth medal beginning on a new bar. For females they are 3 medals wide with the 4th medal on a new row.
Royal Australian Navy members have the choice of either 3 or 4 medals wide.
---
Our Work
All mounting work is carried out to the highest quality
Bars and devices are mounted with the medal where required
New ribbons and Replica medals are available, both mounted and singly
Medals are mounted ready for wear and display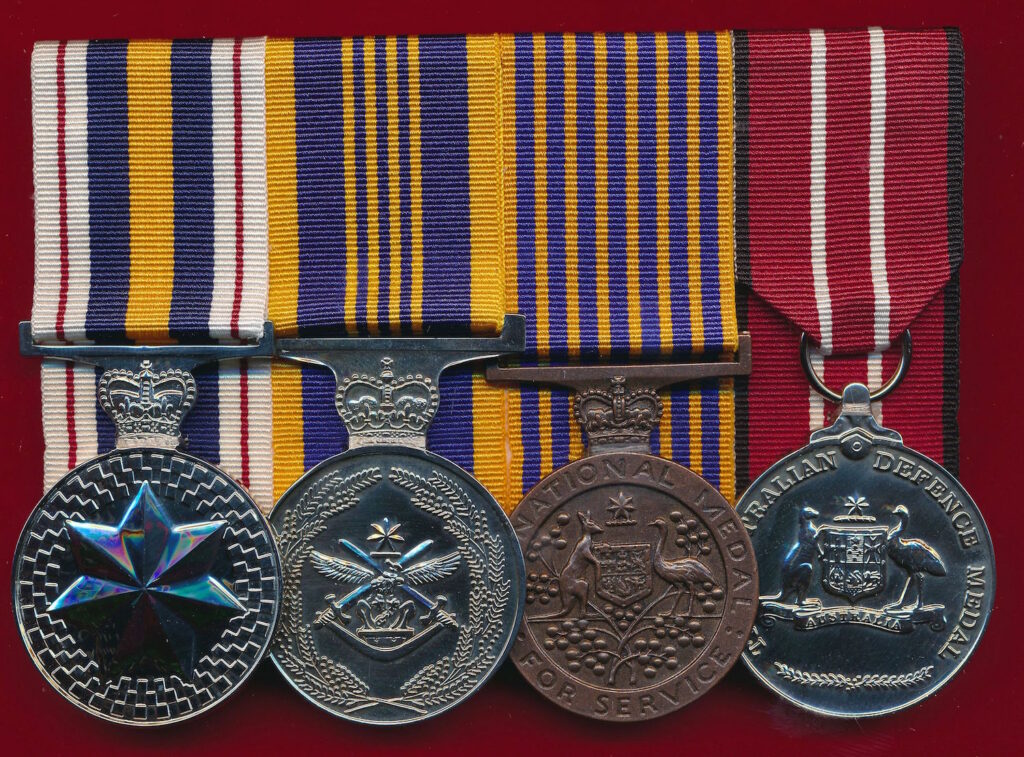 ---
Looking for Framing?
The framing of your precious items needs to be undertaken by a professional framer who is familiar with the process and takes the utmost care in handling your valuable medals and associated ephemera.
We highly recommend Dimond Picture Framers located in the iconic Adelaide Arcade. Renato and his family have been framing our clients' medals for years and I have never received anything but the most positive feedback. See their work at https://dimondsgallery.com.au/
---
Protocol Wearing of Medals
Recipients wear their medals on the left chest for Commonwealth & Federal awards.
State awards, Police, Emergency Services etc unless promulgated by the Governor General are worn on the right breast.
Non-Recipients If you are representing a veteran then they must be worn on the right breast to show the medals are not your own. This rule applies to both full size and miniature medals.
Medal Types
Full-size medals normally worn on service dress or to daytime events.
Miniature medals are normally worn for mess dress or important evening events.
Order of Precedence for Commonwealth and State Awards
This can often be argued but it is very clear and straightforward.
All Imperial and Australian awards are worn in accordance with the order of precedence from left to right. All Foreign awards which include UN and NATO medals are worn after any Australian medals when awarded by the ADF, Police and Commonwealth agencies etc. They are ordered by the date they were awarded.
All State medals also have an Order of precedence and are worn on the right breast.
Commemorative, Association & Unofficial Medals
This is a controversial subject however they do have their place if the correct protocol is observed. These medals are sometimes referred to as "tin medals".
Some are issued by Veterans associations, sometimes as a commercial enterprise.
An "unofficial" medal is one that has not been officially conferred on an individual by the Commonwealth Government and therefore should not be worn with officially awarded medals.
Simply protocol says that if a veteran had to buy a medal, then it should not be mounted on the rack of genuine medals.
Below are a few more commonly seen "unofficial" medals
Australian Prisoner of War Medal, British Commonwealth Occupational Forces,
National Service Association Medal 1951-1972. Ubon Thailand Medal
Tobruk Siege Medal. Front Line Service Medal. Dunkirk Medal.
---
Medals Awarded to Australians
See a full list of medals awarded to Australians here.
Glossary of Terms Used to Describe a Medal
Parts of a medal
Obverse: The side of the medal that usually bears the Sovereign's head.
Reverse: The opposite side to obverse. This generally bears the design or inscription, and sometimes both.
Rim: The raised part of the medal edge which prevents damage to the piece when it is laid flat.
Edge: The outside circumference of the medal which usually bears the recipient's name, rank, reg etc.
Impressed: This means that the recipient's details on the edge have been impressed
Engraved: This means that the inscription of such matter as is found on the edge, such as the particulars of the recipient, is engraved.
Exergue: The space below the horizontal line on the reverse.
Claw: This is the fitting on the medal which joins it to the suspender.
Suspender: This is the fitting which takes the ribbon and joins on to the claw either rigidly, or in such a way as to enable the piece to be swivelled. It can be found in the form of either plain, straight, and ornate. Some medals are suspended by a ring connecting the ribbon directly to the piece.
Ribbon: Medals are worn suspended from their own specific ribbons. These were first made of silk, but cotton was increasingly used as the nineteenth century developed. Their own colours often have a symbolic significance: the equal stripes of the '1939 to 1945 Star,' for example, are dark blue to represent the service of the Royal and Merchant Navies, red, to represent that of the Armies and light blue to represent that of Air Forces.
Campaign or Battle bars A medal bar or medal clasp is a thin metal bar attached to the ribbon of a military medal, it most commonly indicates the campaign or operation the recipient received the award for, and multiple bars on the same medal are used to indicate that the recipient has met the criteria for receiving the medal in multiple theatres. EDIT
Achievement & Service bars Indicate the recipients has completed another specified period in service. For example, a bar on a Defence Force Long Service medal indicates the recipient has completed another specified period of service. More than 1 bar can be achieved depending on length of service.
Multiple award bars Indicates that the recipient has received a second decoration of the same award. For example, DFC & Bar confirms the recipient received 2 awards of the Distinguished Flying Cross.
Rosettes: These are small circular roses placed on the ribbon when it is worn alone, this rosette denotes award of the clasp. For example, a rosette on a WW2 Pacific star indicates that the recipient is entitled to the "BURMA" clasp on his Pacific star.
Oak Leaf: Often referred to as M.I.D. Soldiers of the British Empire or the Commonwealth of Nations who are mentioned in dispatches but do not receive a medal for their action, are nonetheless entitled to receive a certificate and wear an Oakleaf. Soldiers can be mentioned multiple times but only 1 Oak leaf is worn on the ribbon of the appropriate medal. For example, an Oakleaf on a WW1 Victory medal indicates the recipient was Mentioned in Dispatches. The award of the oakleaf in some instances was awarded at the same time as a Bravery decoration or an Order such as the Distinguished Service Order.
---